Bishopi provides wide range of effective domain tools & services
Big Toolset
Most popular tools
Domain SEO Analysis
SEO analysis tool is a must-have to assess the potential of domains in terms of SEO performance and visibility. Our availability, pronounceability, readability, and simplicity insights will help you get the best domain for a personal website or investment.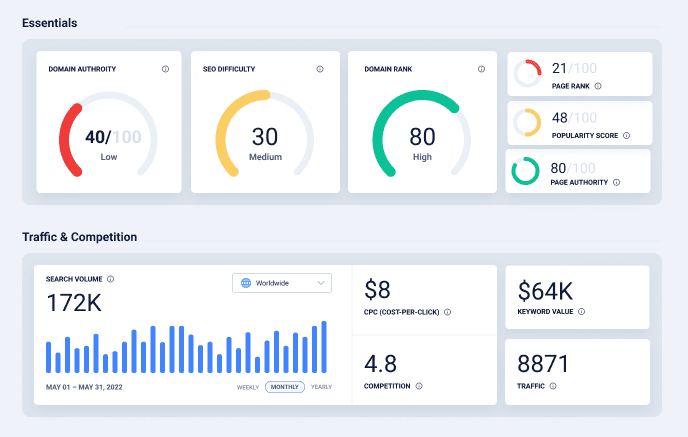 We make it simplified
Domain Backordering Simplified
We understand how hard it can be to get high-potential domains as they drop. Bishopi's prompt database helps you to backorder domains before competitors. To spice up the deal, you don't have to part with an arm and a leg to secure your domain investment. No upfront fees, no hidden charges.
Create a free account and backorder as many domains as you want. If more than one person backorders a domain, we create a 10-day auction. If you are the only bidder, you get the name at an unmatched price.
Good news
API Documentation
Powerful. Flexible. Integrate our data into your system or solution with full-fledged APIs. Enjoy the user-friendly platform. Or use both.
We understand that everyone has different preferences when it comes to domain tools. That is why we offer both a user-friendly platform and powerful APIs. Our flexible domain API lets you easily integrate our powerful features into your system.
Frequently Asked Questions
How much does Bishopi cost?
We have a 7-day free trial with no credit card required. After the trial period ends, you can subscribe to the Basic, Professional, or Advanced Plans for $49, $99, or $249 monthly.
Bishopi is a solution that drives domain name investment decisions to excel for both buyers and sellers. We offer intelligent tools that helps you find value and understand your domain names more easily, meant for both beginners and professional domain name investors.
Do I need to provide my credit card details to sign-up for a trial?
No credit card details are required when signing up for the free trial. You only provide your payment information after the trial period ends and decide to continue using our services.
Yes. You can sign-up for free and as a free user you have limited amount of access. That said, if you decide to purchase a subscription you will get a 7 days of trial period where you get a taste of everything we offer you when it comes to domain name tools and services.
Can I cancel at any time?
Yes, you can cancel your subscription at any time. There are no hidden cancellation fees.
Do I need a subscription in order to place a backorder?
No. No subscription is needed in order to place backorder or participate in auctions. However, a valid credit card is required in order to use both services.
What makes Bishopi different from other domain tools?
We use AI-enhanced technology to provide reliable, real-time market data and notifications. Our domain tool provides all the information needed to make rational acquisition decisions. Whether you want to analyze a domain SEO, backorder a domain, or track a keyword, we have got you covered.
Over 4 million past domains sales