Your Ultimate Solution for Domain and SERP Analysis
As businesses increasingly rely on digital space to reach customers and drive conversions, a comprehensive analysis of domain SEO has become essential. And what better way to do it than in an all-in-one solution for domain and SERP analysis?
Bishopi domain SEO analysis API feeds your tool, dashboard, or application with insight into the quality and quantity of backlinks, SEO difficulty scores, trend data, and indexed pages.
Before getting into the nitty-gritty of SEO Domain Analysis, let's look at what it is and why you should analyze domain SEO.
What Is Domain SEO Analysis?
Domain SEO analysis is the process of examining a domain's search engine optimization (SEO) performance. It involves gathering and evaluating data on how well the website performs in organic search, including keyword rankings, traffic cost, page popularity score, CTR scope, and brand query.
The primary goal of domain SEO analysis is to identify areas for improvement and maximize visibility in organic search. By properly assessing the domain's performance, businesses can identify ways to improve their ranking on SERPs, create a more powerful brand image, ensure relevancy, and increase competitiveness.
Why Domain SEO Is Important
The why of any SEO strategy should be clear to every business: a strong domain SEO performance boosts visibility and drives organic traffic, which can ultimately lead to increased conversions. Here are five reasons why your tool should analyze domain SEO:
1. Domain SEO Impacts Ranking
How well a domain ranks in organic search directly relates to its SEO performance. Domain analysis provides insight into the factors that affect rankings, such as page authority and backlink quality.
These factors can be used to identify areas for improvement and implement strategies that will increase the domain's ranking. Most importantly, this data can help users stay ahead and remain competitive.
2. Affects Domain Confidence
You can use a domain SEO analyzer to evaluate the confidence of a domain. The insights can help in domain investment decisions and provide clarity on the overall organic visibility of potential domains.
For example, SERP analysis shows different niches' most preferred extensions, keywords, and URLs. With this information, it is possible to assess the confidence of a new domain and ensure that it meets SEO goals.
3. Maximize Competitiveness
Data-driven domain SEO analysis can also help maximize competitiveness in organic search. By analyzing the performance of competitors' domains, users can identify areas for improvement and implement strategies that will give them an edge over competitors.
This could include analyzing their backlinks and keyword optimization strategies. Apart from giving your tool the upper hand, it can also help you stay ahead of changing trends in the industry.
4. Ensure Relevancy
A domain SEO audit gives insights into the relevancy of a domain. Relevancy plays a crucial role in organic search success and is one of the most important ranking factors.
If you miss relevancy, it can negatively impact your domain and reduce rankings. Businesses can use domain analysis to ensure their websites send the right signals to search engines and remain relevant.
5. Create a Brand Image
A solid SEO strategy is the first step in creating a successful brand image. Domain analysis helps users understand how well their domain aligns with branding goals.
Identifying and utilizing the most important keywords can help build a strong brand image and drive organic growth. By analyzing the performance of a domain, you can create an effective SEO strategy tailored to branding goals.
How You Can Use Bishopi SEO Analysis API
There are hundreds, if not thousands, of domain SEO analysis APIs in the market. Bishopi stands out from the rest because it offers an all-in-one solution that enables your tool to analyze domain performance more efficiently.
The application programming interface (API) provides 2 endpoints that businesses can use to analyze domain SEO:
Domain analysis
SERP analysis
The domain analysis endpoint helps your tool to monitor the domain performance. It gives insights into metrics such as backlink quality and quantity, indexed pages, and domain rank.
On the other hand, the SERP analysis endpoint helps you to monitor domain performance on organic search engine results pages (SERPs). It gives insights into the keywords' search volume, click-through rate (CTR), and SEO difficulty.
The two primary features work in tandem to provide an all-in-one domain analysis tool that enables you to maximize domain SEO performance and get the best results.
Domain Analysis Features
As the name suggests, these features help you analyze a domain's performance. The API focuses on domain-related metrics such as domain rank, backlink quality and quantity, domain confidence, traffic and traffic cost, and organic keywords. The primary objective is to provide domain-level insights into a website's SEO performance.
Backlink Quality & Quantity
Like social networks are to humans, backlinks are to websites. The more connections you have, the easier it is to land prime opportunities in business.
This principle also applies to search engine ranking. A domain with many quality backlinks will rank higher in search engine results than one with fewer.
This is where Bishopi's API comes in handy. The domain SEO checker helps your software to offer an extensive report on the quality and quantity of your backlink profile.
It also enables your tool to identify areas for improvement for businesses to build a more successful SEO strategy.
It is good to mention that backlink strategies are some of the most abused tactics by SEO practitioners. To ensure your tool provides effective backlink strategies and maintains quality, Bishopi provides you with the necessary data.
Indexed Pages
The number of indexed pages is a crucial metric for evaluating domain SEO performance. A higher number of indexed pages usually correlates with better organic search visibility since it signals search engines that a website is active and contains relevant content.
Bishopi API lets your tool track the number of indexed pages on domains. You can also collate detailed information about each page, including its title and URL. With this knowledge, users can identify potential issues related to indexation and work on improving them.
Domain Rank
Domain Rank metric helps businesses know the value of their website. It is a score assigned to each website based on its link equity. The higher the score, the more authoritative and trustworthy the website appears in the eyes of search engines.
Bishopi helps you provide a comprehensive domain SEO analysis, giving you an accurate value estimation. The report gives information about a domain's total link equity and distribution across different pages. Users can also determine which pages contribute the most to the overall value.
By monitoring the Domain Rank of a website, businesses can devise strategies to improve it and boost SEO performance.
Traffic & Traffic Cost
While ranking is important, what truly matters is the amount of organic traffic from search engines. Bishopi SEO Analysis API provides a monthly traffic estimate and the estimated price of organic keywords.
This data can be used to adjust and refine SEO strategies, helping businesses identify the most cost-effective keywords and optimize content for them. Moreover, it can help determine the return on investment of different SEO campaigns, enabling users to maximize profits from organic search.
Organic Keywords
Do you want to provide data on what keywords drive organic traffic to websites? Bishopi provides an in-depth report about the organic keywords associated with a domain.
You can use this data to:
understand what terms are ranking,
determine the keywords' competitiveness,
decide which keywords you should optimize for,
compare the performance of different keywords, and
track the evolution of rankings over time.
The keyword efficiency index feature helps your tool identify the most efficient keywords to target to give users an edge over competitors.
Users can make data-driven decisions and improve domain SEO by analyzing the organic keywords associated with their domain.
Page Popularity Score
It is possible to have different popularity scores for different pages within the same domain. The Popularity Score measures how popular a certain page is compared to other web pages.
The primary determinant of a domain's popularity score is the number of external links pointing to it. Bishopi Domain SEO Analysis API estimates a website's Page Popularity Score and gives insights into which pages are helping the domain rank higher in search engine results.
Optimizing pages with high popularity scores can improve the domain's overall performance and increase its visibility in search engine results.
CTR Scope
The Click-Through Rate (CTR) measures how often visitors click on a domain when it appears in search engine results. The higher the CTR, the more likely people will visit the domain after seeing it in search results.
Page titles and meta descriptions play a major role in driving clicks to a website. Therefore, it's important to optimize them for better engagement.
With Bishopi, your tool can estimate domains' CTR scope for keywords and associated phrases. This data helps adjust a domain's titles and descriptions to ensure maximum engagement from organic search.
Brand Query
Although domain SEO is essential, brand awareness also significantly drives organic traffic to a website. Bishopi API helps your software track the number of searches for a domain's name and brand-related terms.
This data can be used to identify where people are searching for the domain and how often they're doing so. It takes time to build brand awareness, but it's an important step to maximize the domain's visibility and increase organic visits.
Although terms like Adidas or Coca-Cola receive millions of searches every day, they were once small businesses with little to know brand queries. Building a domain's brand is essential for long-term success.
Exact Domain Match
An Exact domain match is when someone searches for the exact domain name and not any related terms.
Bishopi API estimates how many people are searching for your domain's exact name. Knowing this information can help determine if people are aware of a domain or if there is still some work to be done in branding and domain visibility.
Keyword in URLs
How well does a domain reflect its content? Having keywords in domain names and URLs is essential for domain SEO. Bishopi domain SEO checker shows the number of times a particular keyword appears in the domain's URL structure.
This information helps determine if the domain URL structure is optimized for SEO. If you still need to, you can work on adjusting the domain URL structure to include more SEO-friendly words and phrases.
This analysis should be done before choosing a domain name for a website. Adjusting domain URLs after the domain name has been registered can be difficult.
SERP Analysis Features
Unlike domain audit features, SERP analysis provides insights into search engine result page (SERP) data. It covers metrics such as SEO difficulty, trend data, cost per click, search Volume, and related keywords. These metrics help compare against competitors and show the ease or difficulty of ranking certain keywords.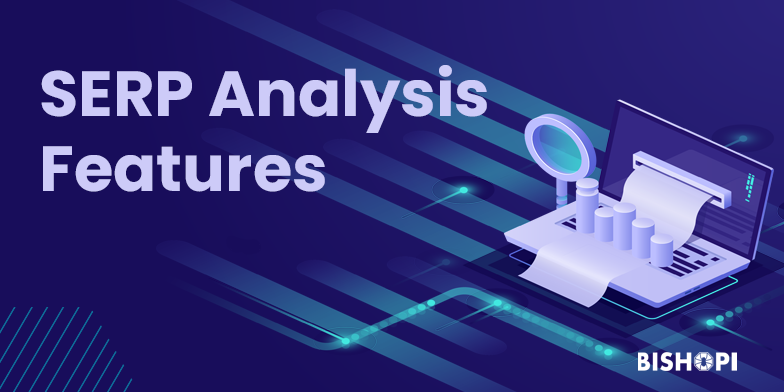 SEO Difficulty
Understanding how difficult it is to rank for certain keywords can help businesses decide whether investing in those terms is worth it. Bishopi offers two different categories of SEO difficulty: on-page and off-page.
On-page difficulty refers to how well the top 10 search query results are optimized. This metric can help determine the necessary steps to ensure content ranks higher than competitors.
Off-page difficulty refers to the link equity of the top 10 results of a search query. This can identify potential link-building opportunities and measure how difficult it is to outrank competitors for certain keywords.
Trend Data
The tech industry is quite dynamic, with new trends emerging almost daily. Businesses should always stay ahead of the curve by understanding what is in and out.
The trend data feature provides historic data and insights about popular search queries related to a domain. The data comes from Google and YouTube. This feature gives users an idea of what trends dominated the market from 2004 (for Google) and 2008 (for YouTube) and what trends are gaining traction today.
Keeping up with the latest trends can help create content that resonates with the target audience and drive more organic traffic. Consequently, the domain authority and rankings will improve.
Related Keywords
You have probably seen the "Related Keywords" section after searching for something on search engines. Related Keywords are other words or phrases that are associated with the query. For example, when you search for "SEO optimization," Google might show related keywords like "Search engine marketing" or "On-page SEO."
This data can help you understand the terms and phrases associated with your domain. This feature helps domain owners identify keywords related to their domain and use this data for domain SEO.
Businesses can use this data to optimize their domains for more relevant terms, especially when targeting a particular niche.
Cost Per Click (CPC)
CPC refers to the amount you pay to receive a click for a certain keyword or phrase. Knowing a domain's CPC is essential for developing an effective SEO and PPC strategy.
Bishopi API provides the estimated cost of keywords related to a domain, giving users an idea of what terms are profitable for their business and which should be avoided. This information can be used to adjust a domain's SEO and PPC strategy accordingly.
Search Volume
When evaluating the potential of a domain, it's essential to know how much traffic to expect for each keyword or phrase associated with it. You can never go wrong with focusing on high-volume keywords.
Bishopi's free SERP analysis tool provides the estimated search volume for each keyword associated with a domain. The data shows how much traffic a business can expect from organic search.
When you accurately estimate the domain's potential, you can optimize your website to attract more organic visits and increase the domain's visibility.
Summary
Analyzing domain SEO is essential for improving a website's visibility and ranking. Bishopi domain SEO analysis API provides valuable insights that can help your tool provide the domain's overall performance and maximize its potential.
The API helps identify keyword opportunities, track brand queries, analyze backlink quality & quantity, and get an estimation of domain rank and traffic metrics. Apart from that, domain analysis also helps businesses maximize domain competitiveness and ensure domain relevancy.
A well-optimized domain can help businesses stand out by improving the website's visibility and increasing organic visits. Use Bishopi to equip your tool, dashboard, or app to analyze domain SEO for maximum performance.
FAQs
How do you perform a SERP analysis?
The first step in SERP analysis is keyword research. After that, you should identify the searcher's intention and the top competitors. Analyzing the top competitors and identifying opportunities to rank better follows. Lastly, you should track your performance on search engine result pages performance.
How can I improve my SERP results?
You can improve your SERP results by understanding customer intent when searching for certain keywords. Then, target those keywords with quality content. Including the keywords naturally in the meta title and description will boost your performance. Lastly, you should optimize images by adding alternative tags.
What is a domain API?
A domain application programming interface (API) is a set of definitions and protocols that allows domain information sharing between two platforms. For example, when you access the API of a tool that shares data on domain authority, you can integrate the same information into your tool.
What is a domain analysis tool?
A domain analysis tool is a platform that allows you to check metrics like domain authority, rating, spam score, competitors, rank, and link profile. Bishopi offers comprehensive domain analysis to help you choose a domain for your business or investment. This information is also essential in analyzing your website performance.
What is the API for checking domain names?
Bisopi is the most reliable API for checking domain names. The tool helps find a domain name's validity, availability, expiration, and DNS settings. You can also get comprehensive information about a domain's SEO, keyword, and link profile from Bishopi.